Manufacturer of Cissus Quadrangularis Range
Being a reputed PCD pharma company in India, we are also known as certified Cissus quadrangularis manufacturer because we use it in our medicines for healing joint pains and improving the health of the bones. Cissus quadrangularis has impressive pain healing properties, and it can also reduce inflammation, improve respiratory conditions, improve the strength of bones, and boost immunity naturally. It can also prevent teeth diseases and also prevent diabetics. It can also aid you in weight loss and even optimize cardiovascular function for keeping the heart healthy.
Cissus quadrangularis is a perennial plant, and it is mainly found in India and even exported to the United States due to its significant health benefits. We are using it in our medicines for promoting better health for consumers, and we also use it for manufacturing of ayurvedic medicines. Cissus quadrangularis is filled with active ingredients such as carotenoids, triterpenoids, minerals, and vitamins that make it so compelling.
As a renowned Cissus quadrangularis manufacturer, we always keep in mind the quality of our products and put the exact amount of this health improving plant in the medicines. We are using it in our C3 plus tablets, fevijoint forte tablets, and fevijoint capsules and also use in our herbal medicine ordex forte to provide relief from joint pains to our consumers.
Cissus quadrangularis has proven health benefits, and it is well known for improving the immune system of the body and prevents infections like a cough and flu. It also has wound healing properties thus it can also relieve you from the pain due to external injuries.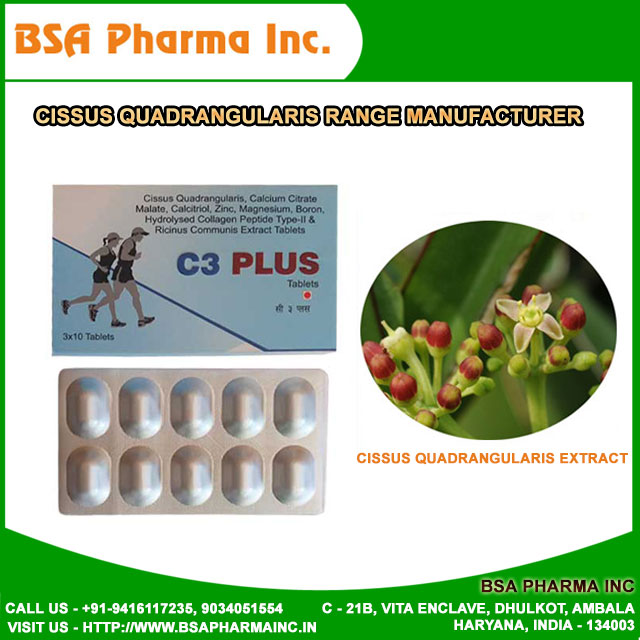 If you are looking for the best Cissus range manufacturing pharmaceutical company in India then simply fill our inquiry form and our team representative will contact you shortly.
See also :